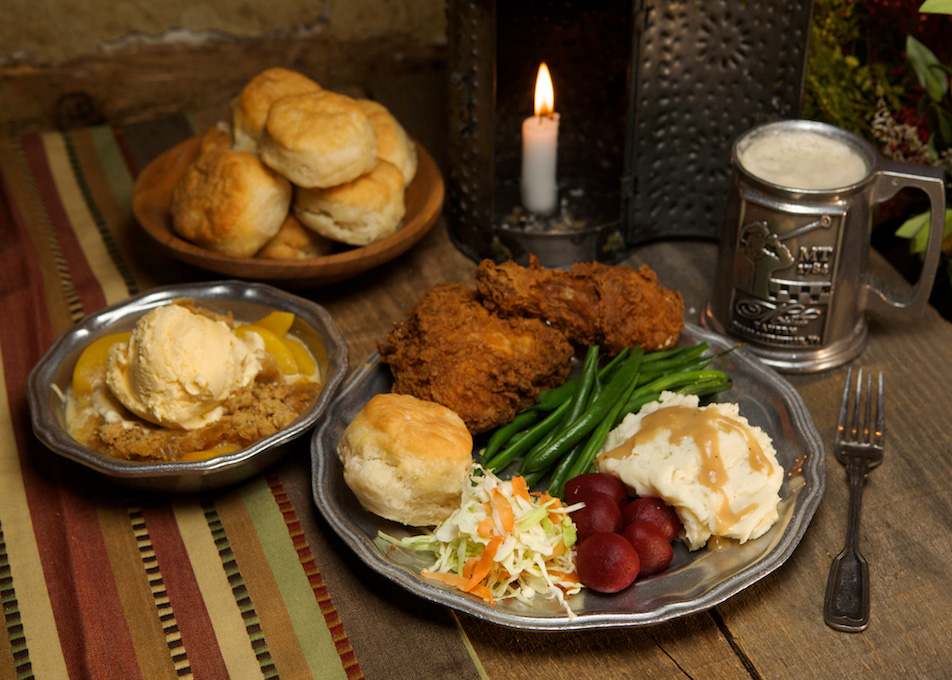 Call Michie Tavern for the best Southern take-out in town!
Our Renowned Fried Chicken:
Michie Tavern's home-style fried chicken has a bold southern flavor. Our Virginia bred chickens are larger in size than the average bird and marinated to retain flavor and moistness. The pieces are then dry rolled in a special breading and fried in peanut free oil.  We use only stone-ground whole kernel wheat blended with spices and herbs (no eggs or dairy).
Barbecue:
Our hand-pulled, hickory smoked pork barbecue has a traditional Southern sauce (tomato base). We offer it as take-out only in five pound quantity.
Fried or baked chicken is sold only by assorted pieces Example: for every eight pieces, two each of drumsticks, thighs, breasts and wings
Our Barbecue can be ordered hot or ready to heat
The soups are seasonal and not available year-round
Prepayment is required for orders after 1:00 pm
There are times when dining attendance will not allow for take-out
When possible, please call one day in advance to place order
Minimum quantities are required (see below)
When possible, please call one day in advance
to place order (434) 977-1234
Take Out
Details & Information
Pack and Transport Food Safely
It is the customers responsibility to handle food properly and to maintain safe holding temperatures read more
Five years ago, on my very first visit to Charlottesville to tour UVa as a prospective student, my parents and I stumbled across your tavern on the way to Monticello. We were instantly enchanted by the friendly staff, the cozy atmosphere, and, of course, the delicious food.

– Amanda Strayer, Ohio