APRIL 2021
A variety of lunch discounts are offered throughout the year
Open seven days a week 11:30 AM - 3:00 PM
APRIL VIRGINIA RESIDENT OFFER
$2 Off  Monday – Friday
* Must present coupon and proof of residency
* Limit of four adult Virginia residents
* Not valid with other discounts, for groups, previously booked functions or vegetarian rate
DOWNLOAD COUPON TO PRINT OR SHOW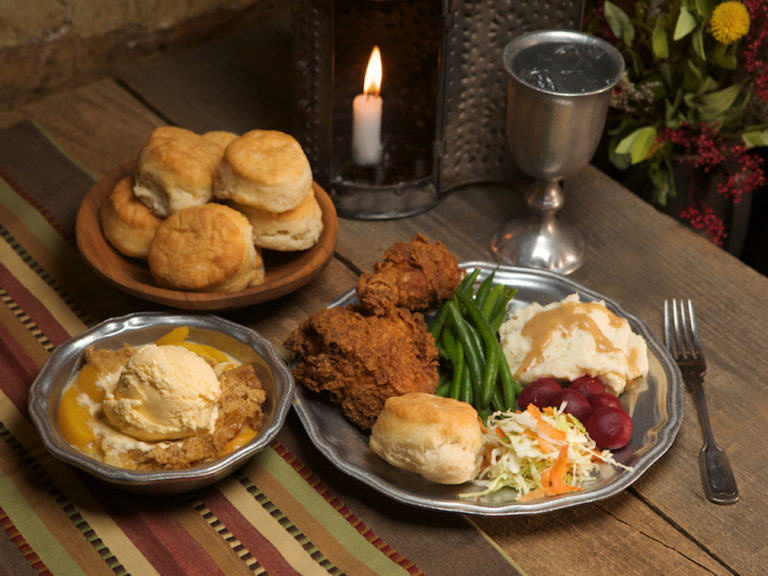 APRIL EAT EARLY OFFER
$2.00 Off Adult Lunch (arrive before 12:00)
* Must present coupon
* Offer valid for 4 adults arriving by noon
* Not valid with other discounts, groups, previously booked functions or vegetarian rate
DOWNLOAD COUPON TO PRINT OR SHOW
PRESIDENTS' HOUSE DISCOUNT
$2.00 Off Adult Lunch Monday – Friday
* Must show ticket from Monticello, James Monroe Highland or Montpelier
* Offer valid for one adult
* Not valid with other discounts, groups, previously booked functions or vegetarian rate
VIEW MICHIE TAVERN'S MENU
More Lunch Offers and Specials Throughout Michie Tavern
Military Discount Everyday!
$4.00 Off Lunch
Valid for retired or active military personnel
* Must present a current military ID
* Not valid with other discounts, groups, family members, previously booked functions or our vegetarian rate
Missed Lunch or Need a Dinner Option
We offer curbside takeout
View more info
COVID-19 Response
To our loyal customers, potential customers and friends,
We are monitoring the COVID-19 virus situation with great care. The health and safety of our patrons, staff and community are foremost on our minds. Attention to food safety, cleanliness and sanitation is always a top priority for our staff but is now enhanced to a much higher level.
Safety Guidelines
– For everyone's safety, staff and customers must wear face coverings  – State of Virginia Mandate
– Adhere to 6 foot social distancing guidelines
– Limited to a group of 10 at a table
– No one with a fever or symptoms of COVID-19, or known exposure to a COVID-19 case in the prior 14 days, is permitted inside the building
– Curbside takeout is available for those not comfortable with inside dining
Open seven days a week 11:30 – 3:00
Our Southern Fare is available:
– self-serve buffet *
– spacious inside seating and multiple outside options
– touchless buffet served by staff
– table service
*Face mask & gloves (provided) are required for self-serve buffet